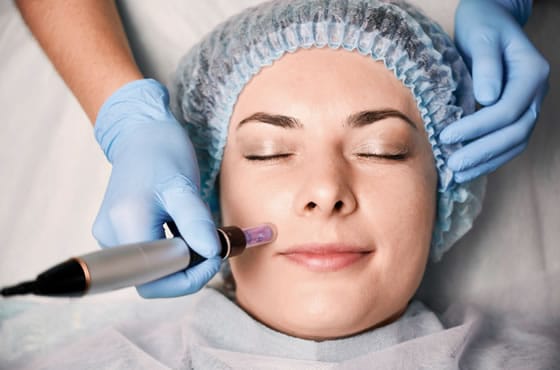 6 benefits of Collagen Induction Therapy
Collagen Induction Therapy is an incredibly exciting, relatively new treatment which is highly effective and minimally invasive, rejuvenating and refreshing skin's appearance for a smooth, youthful appearance.
It's a firm favourite here at Elizabeth Tetlow Aesthetics, thanks to its magnificent, rapid results and minimal down-time – and it has many different diverse benefits to offer for all age ranges.
What is Collagen Induction Therapy?
Also known as micro-needling, Collagen Induction Therapy is a non-invasive and highly effective rejuvenation treatment aimed at stimulating the production of collagen and elastin deep beneath the skin, resulting in a renewed, plumped and glowing appearance with fine lines and wrinkles visibly reduced.
Using a special dermal pen, tiny needles create microscopic tears in the dermis which break up existing collagen fibres to encourage the development of fresh new collagen, with lasting results.
What's wonderful about Collagen Induction Therapy is how accessible and versatile it is – suitable for all age groups and skin types. There are so many benefits associated with this innovative non-surgical treatment – but a few of my favourites include:
1/ Increased collagen production
As the name suggests, Collagen Induction Therapy has a positive impact on collagen levels in the skin. This of course has a targeted impact on key areas of the face such as lines and wrinkles – but it also boosts our collagen production overall to actively fight signs of ageing long-term. By the time we reach age 30, we lose around 1% of our natural collagen stores each year. Collagen loss isn't just characterised by fine lines and wrinkles – it can also cause sagging of the skin, producing an overall ageing effect. Through regular treatments you can combat these losses and support your body to produce higher amounts of collagen, maintaining a more youthful appearance.
2/ Reduced appearance of fine lines and wrinkles
The development of lines and wrinkles on the face are key concerns for many clients – and are amongst the main reasons they come to us for Collagen Induction Therapy. As the treatment enhances collagen and elastin production and stimulates the production of new skin cells, the appearance of dine lines and wrinkles can be greatly reduced even after just one treatment (although significant results can be seen after a few skin cycles). Key areas of concern such as crow's feet, forehead wrinkles and frown lines can all be alleviated using Collagen Induction Therapy.  
3/ Improved effectiveness of topical products
Do you ever feel as though you're not getting the most out of your skincare? When you're investing in the best creams and serums to rejuvenate your complexion, you want to know that they're working as efficiently as possible.
Collagen Induction Therapy is an incredibly effective way to supercharge your skincare – as it reveals fresh new skin, allowing active ingredients to penetrate more easily and deeply below the skin's surface. Post-therapy is a great time to apply serums, moisturisers and anti-ageing treatments to help make the most of their protective and regenerative abilities.
4/ Alleviated hyperpigmentation, sun damage and rosacea
Sun damage is a key concern for many of my clients – and although prevention is better than cure, it's a myth that nothing can be done to save your skin once sun damage occurs. Collagen Induction Therapy is in fact one of the most effective and well-known treatments to combat key signs of sun damage including hyperpigmentation and age spots. Through stimulating collagen and skin cell renewal, this treatment can effectively fade brown spots and help to actively reverse signs of ageing brought about through excessive sun exposure.
5/ Fast fading for scarring and stretch marks
Stretch marks and scarring can be stubborn and take a number of treatments or an extended amount of time to improve – especially when using topical treatments alone. Collagen Induction Therapy offers fast-acting, significant results when reducing the appearance of stretch marks, scars and acne scarring even after just one treatment. This is because the plumping effect of collagen minimises the severity of scarring and stretch marks from within, resulting in significant fading over time.
6/ Refined pores and smoother skin
Due to the enhanced production of collagen, Collagen Induction Therapy results in smoother, more supple skin with a more refined appearance over time. As collagen levels increase, the skin around enlarged pores becomes plumped, minimising their appearance for smoother skin and visibly decreased pore size.